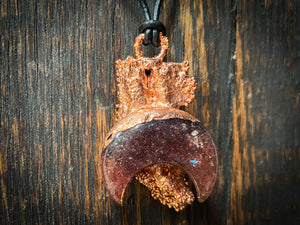 Strawberry Quartz Moon Copper Electroformed Live Oak Bark Necklace
Sale price Price $149.99 Regular price Unit price / per
Strawberry Quartz Moon Copper Electroformed Live Oak Bark Necklace
Strawberry quartz is a fairly rare type of quartz. It contains red inclusions and often sparks of trace minerals giving it the look of strawberry seeds. Strawberry quartz is often used in spiritual and metaphysical workings similar to rose quartz to promote self love and self-confidence.
This piece is also very unique containing a tiny flash on the lower right side of the crescent moon as pictured. It went to many in-person events without us or anyone else noticing until photographing for our online shops!

The crescent shape has been associated as a symbol for fertility for hundreds of years. Natural copper is often worn to enhance energy and rebalance the Chakra energy system. The setting used is actually real live oak bark coated in natural copper! Live oak symbolizes strength, resilience, and safety.

With all of these pieces coming together, this beautiful pendant is a wonderful talisman to remind you to ground and find your center. With self love comes the ability to change your life and the loved ones around you.

This statement pendant measures approximately 1.25" wide by 2" in length.

All copper electroformed jewelry is coated to help prevent tarnishing and reactions to skin contact with natural metals. Over time this sealant will wear off with time and wearing. To prolong the effect, keep away from submerging in water, put on your jewelry after applying lotions, perfumes, and oils, and place in a protected cool, dark place when not wearing.

Choose from the pendant only, a black round leather adjustable sliding knot cord, or a brown round leather adjustable knot cord.

All jewelry and wire tree sculptures from The Twisted Woodland come gift wrapped. If you'd like to include a small personalized note, please enter it at checkout.


.: Save 15% NOW! :.
Want to save 15% off your purchase? By signing up for our email list, you will receive a special VIP coupon code for 15% off ALL future purchases. For life!
You will also get access to upcoming releases, sneak peeks, and other sales not released to the public. Interested? Sign Up Now!

Browse through our other selection of items HERE.

.: Follow Us :.
Find us on Instagram and Facebook where we post behind the scenes stories and videos.

.: About Us :.
Johnathon Goltz is bearded Army Veteran behind the creations at
The Twisted Woodland. Katelyn Goltz is the social media marketing and product photographer behind the scenes at The Twisted Woodland. The spark that ignited our art originated late 2020 during a stressful time of uncertainty. Throughout our time working with semi-precious stones, we found this to be therapeutic during a trialing time full of many challenges.

All wood bases of our tree sculptures are rooted around trees we have personally cut from our homestead in Central Texas, USA. All wire trees adorning agate sun catchers and jewelry are twisted by hand. All artisan jewelry is designed by hand spanning many hours of trial, error, and triumphs. No two finished pieces are alike. We believe nature helps remind us to appreciate the beauty in asymmetry and imperfections.

It is our pleasure to present an array of art giving homage to the earth we have the opportunity to live on.

If you have any questions or requests, please do not hesitate to reach out for a custom Birthday, Mother's Day, Father's Day, memorial, or gift piece.